White-crowned Sparrow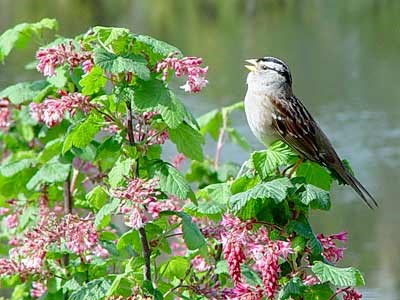 Natural History: The White-crowned Sparrow eats seeds as well as insects and plant parts. It forages on open ground adjacent to scrub cover. It nests above in shrubs above ground. It breeds from March to August. This species of bird is monogamous.
General Distribution: In the Presidio, this species can be found in areas of annual grassland, coastal and dune scrub, all forested areas, lawns, and among ornamentals. It breeds within the Presidio.
Frequency: This species is abundant throughout the year.
Identifying Characteristics: This bird has a striped black or brown and white crown and a gray throat.
Last updated: February 28, 2015