Western Meadowlark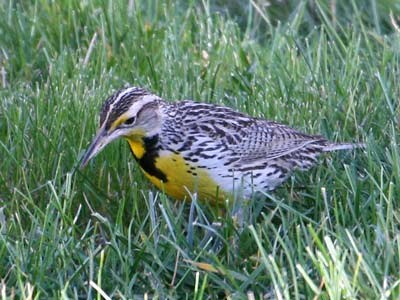 Natural History: The Western Meadowlark feeds on insects and other invertebrates, as well as seeds and grains. Nests are built on the ground. Typically found in small flocks.
General Distribution: In the Presidio, this species is found in areas of scrub and grasslands.
Frequency: This species is moderately common in the spring, fall, and winter. It is not present in the summer. It is not known to breed at the Presidio.
Identifying Characteristics: This bird is characterized by mottled to speckled brown back and sides with a yellow belly and throat and dark brown to black throat band. The top of the head has dark brown stripes.

Last updated: February 28, 2015