Western Fence Lizard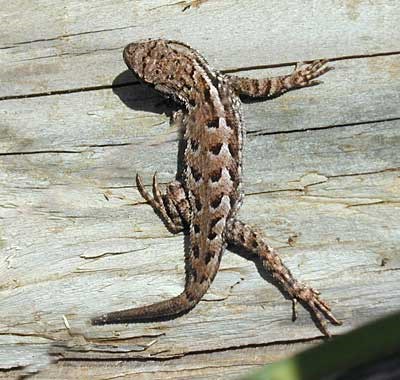 Natural History: This is the most common reptile in California. It is primarily diurnal, seeking out basking and perching sites. It feeds on terrestrial invertebrates. The males defend territories in the spring, and the young hatch between July and September. On occasion, hibernating individuals aggregate in groups.
General Distribution: In the Presidio, this reptile is most commonly found in annual and serpentine grassland areas, forests, streams, coastal scrub areas, and developed areas.
Frequency: This lizard is fairly uncommon in the Presidio.
Identifying Characteristics: This lizard is characterized by a black, gray, or brown body with a blotched pattern. It has blue on the sides of its belly, and the males have a blue throat. The rear of its limbs are a yellowish-orange.
Last updated: February 28, 2015