Turkey Vulture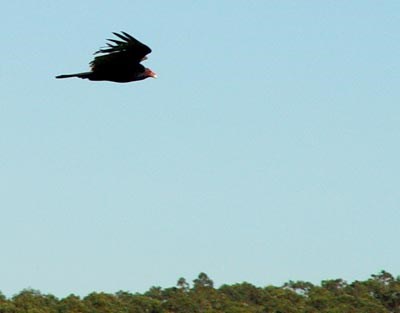 Natural History: The Turkey Vulture eats carrion of all sizes. It finds dead animals by both sight and scent. This communal roosting bird is not known to breed in the Presidio.
General Distribution: This bird is found throughout the Presidio, often soaring above the forest or more open lands.
Frequency: This species is moderately common throughout the year in the Presidio.
Identifying Characteristics: This very large bird, when seen from below, has dark, two-tone wings with silver-gray flight feathers and black leading edges. The head is bald and red, and the beak is white. Its nature is to soar with seldom a flap of the wings.
Last updated: February 28, 2015