Tree Swallow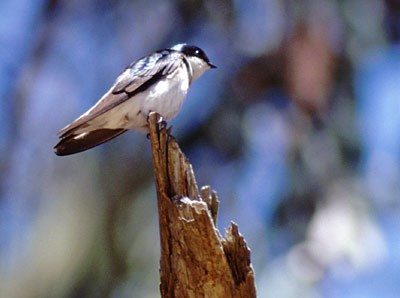 Natural History: The Tree Swallow feeds primarily on insects caught in flight. It takes cover in woodlands near areas of water. It nests in cavities in snags, trees, and cliffs, breeding from mid-April to mid-August.
General Distribution: In the Presidio, this bird is found in forests of eucalyptus, Monterey Pine, and Redwood. This species breeds within the Presidio.
Frequency: This species is common in the Presidio in the summer, spring, and fall; however, it is rare during the winter months.
Identifying Characteristics: This species has a steely blue or green-black upper top and white below. It can be seen gliding in circles.
Last updated: February 28, 2015