Townsends Big-eared Bat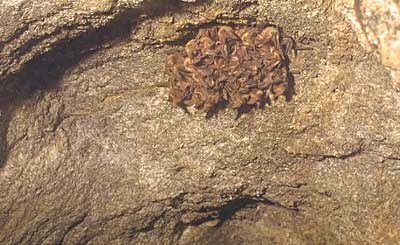 Natural History: This mammal is active at night, particularly during the late evening hours. It flies slowly and has good maneuverability, allowing it to feed on moths and other insects. It roosts in caves, buildings, and tunnels, breeding there during the summer. It is easily disturbed at its roosting areas.
General Distribution: This species is rarely sighted at the Presidio.
Frequency: Currently, Townsend's big-eared bats are Species of Special Concern in California. This is the status below threatened.
Identifying Characteristics: The clove-brown species of bat is distinguished by its extremely large ears, which are joined across the forehead. It has two distinguishable lumps on its nose.

Last updated: February 28, 2015