Sweet Pea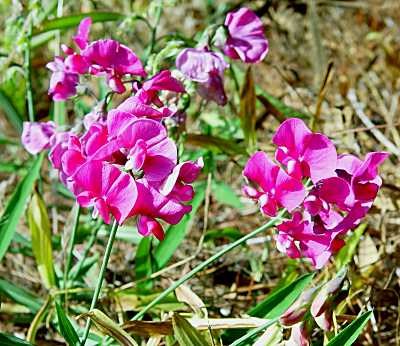 Origin Of Genus Name: Lathyrus is from the Greek lathyros, an old name for "pea."
Presidio Locations: Found in disturbed areas.
Range In State: Throughout California.
Description: This exotic perennial from southern Europe has distinctive flanges on the vining stems, making them appear flat and leaf-like. The paired leaves have a branched curly tendril arising from the base of each pair. The showy flowers with lobed petals are variously colored but often pink to violet. Like most members of the Pea Family, the seeds of Sweet Pea are full of nutrients, remaining viable for long periods of time. One plant can produce many hundreds of seeds during a growing season. The Sweet Pea is very tenacious and can spread for considerable distances. Blooms from April to October.
Or check out:
Last updated: February 28, 2015