Striped Skunk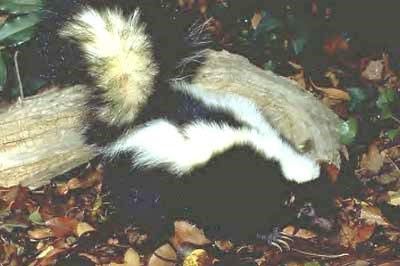 Natural History: The striped skunk is primarily active at night and is omnivorous. It has strong scent glands. This species nests in dens located under buildings, rocks, wood piles or in burrows. It breeds from February through March. Its young are born in early May and follow their mother in single file in the early summer.
General Distribution: This species is especially in coastal and dune scrub areas, forests, buildings, and lawns.
Frequency: This is a common inhabitant in the Presidio.
Identifying Characteristics: This mammal is typically from 33 to 45 cm in length. Its tail is typically 20 to 25 cm long. It has a black body with a white stripe beginning at the forehead and dividing into a "V" at the shoulders. The length and width of the stripe varies.

Last updated: February 28, 2015