Shooting Star
(Dodecatheon hendersonii)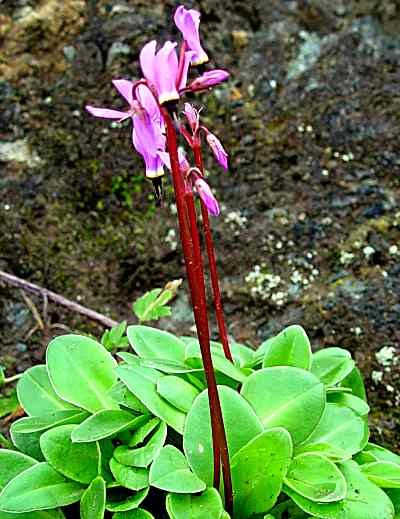 Origin Of Genus Name: Dodecatheon comes from the Greek word dodeka for "twelve" and theos for "gods." ." It was named by Pliny, a Roman naturalist and writer, who thought the cluster of flowers looked like an assembly of the twelve important gods of the Roman world.
Presidio Locations: Found on coastal bluffs.
Range In State: Coastal Ranges and Sierra Nevada foothills.

Description: The native perennial has nodding, bell shaped, rose-purple flowers on dark stems 3 to 12 inches in height and rosettes of broad, glossy leaves held flat to the ground. Hendersonii is named after Louis Fourniquet Henderson, early 19th century botanist. Blooms Febuary to April.
Native Californian Uses: The Yuki ate the leaves and roots after roasting them in ashes. Flowers were used by the Pomo as ornaments for dances and hung on baby baskets as a sleep aid.
Last updated: February 28, 2015