Santa Cruz Garter Snake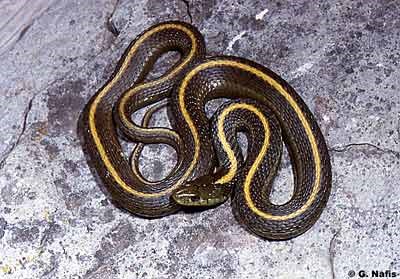 Natural History: This snake is generally aquatic, eating fish and amphibians. It tends to be active diurnally and basks by river banks.
General Distribution: In the Presidio, this species may be found in ponds, streams, springs, and marshes.
Frequency: This species is may possibly occur in the Presidio. It has not been sighted in recent years.
Identifying Characteristics: This snake is variable in color. It has a visible mid-dorsal yellow stripe and a bright yellow throat.
Last updated: February 28, 2015