Ruby-crowned Kinglet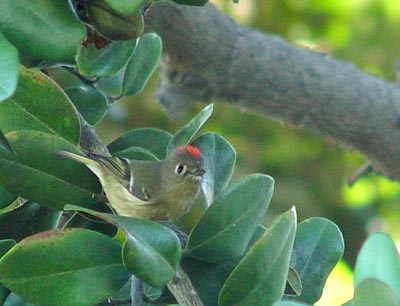 Natural History: The Ruby-crowned Kinglet eats insects, other invertebrates, and fruits by hovering and snatching from the tree canopies. It nests in conifer twigs, hanging above the ground. Breeding season is from mid-May to mid-August.
General Distribution: In the Presidio, this species can be found in coastal and dune scrub areas, all forest areas, and in ornamentals.
Frequency: This species is common in the summer and fall and abundant in the winter.
Identifying Characteristics: This is a tiny bird with an olive-gray above with an incomplete white ring around its eye and 2 pale bars across its wings. The male has a ruby crown. The species has a tendency to twitch.
Last updated: February 28, 2015