Red-shouldered Hawk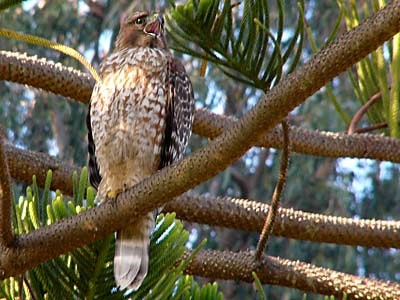 Natural History: The Red-shouldered Hawk tends to forage along the edges of wet areas. Its diet includes a variety of things ranging from mammals to insects which it usually searches for from a perch. This hawk is territorial by nature and takes cover and nests in riparian forested areas. Its breeding season runs from February through July.
General Distribution: This species is found in all forested areas of the Presidio and uses the Presidio as a breeding ground.
Frequency: The Red-shouldered Hawk is common in the Presidio year round.
Identifying Characteristics: This is a medium-size hawk with broad tail and wings. It is characterized by rufous color shoulders and a rusty color underside. Its tail is marked by narrow, white bands.
Presidio Birds main page
Last updated: February 28, 2015