Rare and Endangered Plants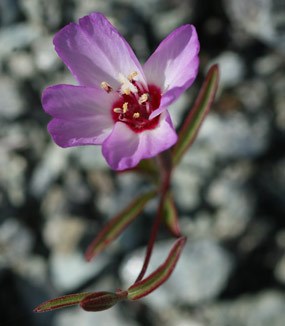 California in general, and the Bay Area in particular, are places of great biological diversity owing to the wide variety of environmental conditions found here. On the San Francisco Peninsula, conditions leading to high biological diversity and species with limited distributions (endemic species) include 1) the interaction of maritime weather and Mediterranean climate to produce localized climatic zones, 2) the development of diverse habitats and barriers to dispersal by mountains and bay, and 3) the presence of a variety of geologic and soil conditions, such as nutrient-poor sand dunes and serpentine-derived soils. This combination of conditions allowed for a flourishing adaptive radiation of many closely related species.
All this is threatened by urban sprawl and the introduction of competitive non-native species like annual grasses and eucalyptus trees. The few places where natural conditions remain are now refuges for rare species. The Presidio is probably the most important refuge in the San Francisco area because it contains many habitats and undeveloped natural areas.
Twelve plants found at the Presidio are designated as rare, threatened or endangered by the United States Fish & Wildlife Service and/or the California Native Plant Society. In addition several other rare, threatened or endangered plant species have been re-introduced to the Presidio at some of our habitat restoration sites.
We have a policy that all rare plants are treated as though they have full protection of the Endangered Species Act. Because of their special status, monitoring of the Presidio's rare plants has been going on for years. The results have provide vital informational "baselines" for plants on the brink of extinction. Park stewards comb the far corners of the Presidio's remaining natural areas to census and map the plant populations every one to three years.
Rare plants in the Presidio are found in either dune or serpentine communities because invasive non-native plants are not able to dominate these nutrient-poor areas.
Plant populations can vary in size depending on the weather, plant competition and human management. Because things change slowly, the plant population trends must be monitored over several years before we know if our management practices are successful. We can report that our populations of rare dune species and perennial serpentine species have generally increased over recent years. The good news continues since the ranges for all twelve rare plants have not gotten smaller. In fact, some ranges have expanded through our work on growing the rare plants in nurseries and then slowly "outplanting" young plants.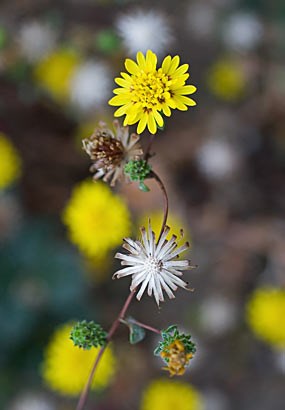 In the dunes, we find three rare annual species:
Two dune perennial species are considered rare:
In areas with serpentine soils, we find three rare annual species:
The four rare perennial species that exist on serpentine are:
Last updated: February 28, 2015