Pacific Ringneck Snake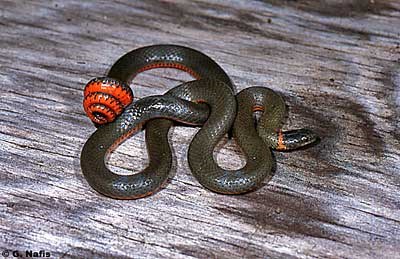 Natural History: This snake prefers moist cover and open, rocky areas. It eats worms and smaller reptiles and amphibians. It lays eggs from April to July that hatch from August to October. Hibernating individuals often aggregate in groups.
General Distribution: In the Presidio, this reptile can most commonly be found in annual grasslands and forests.
Frequency: This species is may possibly occur in the Presidio. It has not been sighted in recent years.
Identifying Characteristics: This snake has a slender body. Its coloration can be olive, brownish, blue-gray, or almost black with a dark head and a yellowish neck band. Its underside is a yellow-orange to red color with a spotted belly. It displays red on its tail's underside when disturbed.
Last updated: February 28, 2015