Northern Mockingbird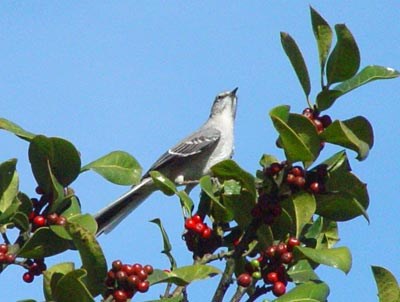 Natural History: The Mockingbird feeds on insects, earthworms, snails, and berries. It both perches and nests above ground level. This bird defends its breeding territories from mid-February to late September. The males can be heard singing loudly day or night in the spring and summer.
General Distribution: In the Presidio, this bird is found in oak woodlands, forests of willow and eucalyptus, and ornamental areas. It breeds on the Presidio grounds.
Frequency: This species is common all year in the Presidio.
Identifying Characteristics: This bird has a grayish color that is darker above and lighter below. It can be noted for white patches on its wings and tail.
Presidio Birds main page
Last updated: February 28, 2015