Narrowleaf Mule-ears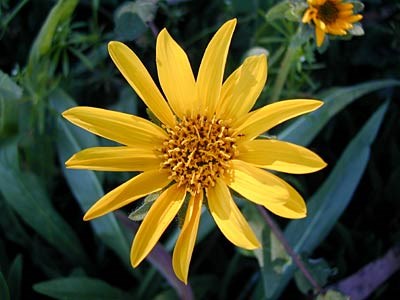 Origin Of Genus Name: Wyethia is named for Nathaniel Wyeth, an early explorer of the American West.
Presidio Locations: Found in grassland and coastal prairie.
Range In State: Northern to central California.
Description: This native perennial species of the Sunflower Family has 3 inch yellow daisy-like flowers with 1-2 foot long, smooth, tapering leaves. One of the 'compass plants', there is a belief that their erect leaves always stand with their edges pointing north and south. Blooms March to May.
Native Californian Uses: The roots of Narrowleaf Mule-ears were pounded to produce a thick lather which was rubbed on the chest as cure for various lung problems.
Last updated: February 28, 2015