Lizard Tail
(Eriophyllum staechadifolium)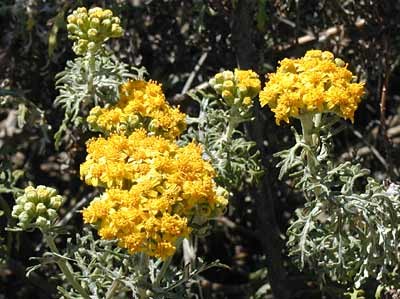 Origin Of Genus Name: Eriophyllum is Greek for "woolly leaves."
Presidio Locations: Found in coastal scrub and bluff scrub.
Range In State: Throughout coastal California.
Description: Lizard tail, or Woolly Sunflower, has clusters of daisy-like yellow flowers. It is a mounding, coastal shrub that is highly drought, salt, and wind-tolerant. Fine white hairs appear on the stems, leaves, and bracts around the flower heads. A small dry fruit develops below the pappus, containing a single seed that is dispersed by wind or animals. Blooms May to November.
Native Californian Uses: Coast Miwok used the dried and ground seeds to make pinole, a ground meal. The Maidu and Miwok have placed Lizard Tail leaves on the body to relieve aches and pains.
Last updated: February 28, 2015