Hoary Bat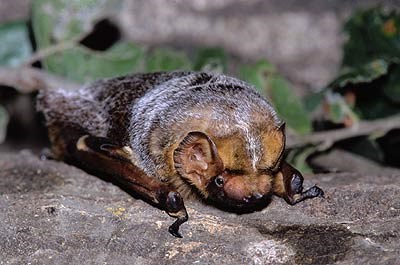 Natural History: The Hoary Bat emerges late in the evening to feed primarily on moths. Male Hoary Bats live in the southwestern U.S. during the summer, while the females live mostly in the northern and eastern part of the continent. In fall, the females join the males in the southwest and both sexes migrate to Mexico, lower California, and South America for the winter. It typically roosts in forests.
General Distribution: This bat ranges widely throughout the southern half of Canada and southward throughout continental U.S.
Frequency: This species is moderately common at the Presidio in the summer.
Identifying Characteristics: This larger bat is distinguished by its brown fur with heavily frosted white tips. Its ears short and rounded with black, naked rims.

Last updated: February 28, 2015