Gray Fox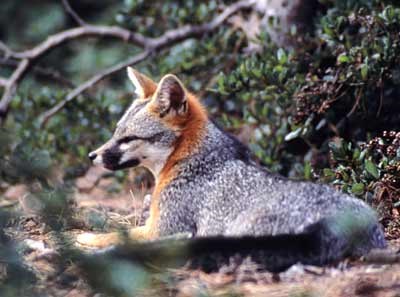 Natural History: The Gray Fox is native to the Presidio. Its tendency is to be shy and nocturnal. It feeds on small mammals but also eats large amounts of fruits, nuts, grains, grasshoppers and crickets, beetles, moths and butterflies, carrion, and small amounts of herbage. This species stays away from urban areas and avoids human contact, unlike its relative, the Red Fox, which is an introduced species that will venture into urban areas.
General Distribution: The gray fox is widespread across most of the United States except northern plains and Rockies. It tends to stay in forested areas.
Frequency: The Gray Fox is uncommon in the Presidio.
Identifying Characteristics: The Gray Fox has a gray fur with black tips on its back and tail. It tands to have red fur on its sides and sides of neck. It has a smaller white bib under the throat than the Red Fox.

Last updated: February 28, 2015