Giant Vetch
(Vicia nigricans ssp. gigantea)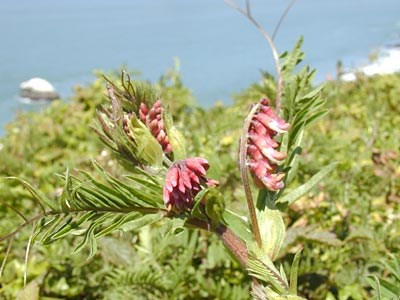 Origin Of Genus Name: Vicia is Latin for "vetch."
Presidio Locations: Found in disturbed areas.
Range In State: Throughout California.

Description: This native perennial species of the Pea Family has 10 to 16 leaves consisting of 5 to 8 pairs of linear to oblong-linear leaflets, often toothed or lobed, on smooth stems with many tendrils. The numerous leaflets distinguish it from other pea-like climbers. The drooping flowers are red to lavender-purple and grow in clusters of 6 to 15. Blooms April to June.
Native Californian Uses: The Ohlone used a decoction of the roots as a purgative and the foliage as camouflage during deer hunting.
Last updated: February 28, 2015