Dune Gilia
(Gilia capitata ssp. chamissonis)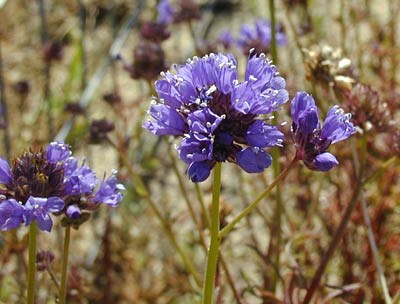 Origin Of Genus Name: Gilia is named after Felipe Gil, a Spanish botanist.
Presidio Locations: Found on coastal dunes, particularly in Lobos Creek Valley and dunes around Crissy Marsh.
Range In State: Northern California coast. The Presidio is the type locality for this species.
Description: This native, annual species is one of the Presidio's rare plants. The leaves are distinctive, dissected and may be reddish in color. Its clusters of small flowers are bright blue-violet. Blooms May to August.
Last updated: February 28, 2015