Deerweed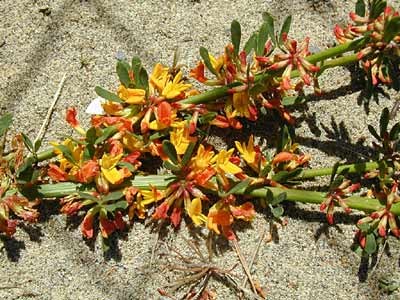 Origin Of Genus Name: From the Greek "lotos," a term for clover-like plants.
Presidio Locations: Found throughout the dunes on sandy flats and brushy hills, particularly at Crissy Fiels and Lobos Creek dunes.
Range In State: California coast. The Presidio is the type locality for this species.
Description: This perennial native species of the Pea Family has small yellow flowers and is often shrubby. The stems are robust and the plant forms prostrate mats. The leaflets are well-spaced and are found in groups of three. Blooms June to August.
Native Californian Uses: The Ohlone used the fiberous foliage as building material for house thatching and as a decoction for coughs.
Last updated: February 28, 2015