Dark-eyed Junco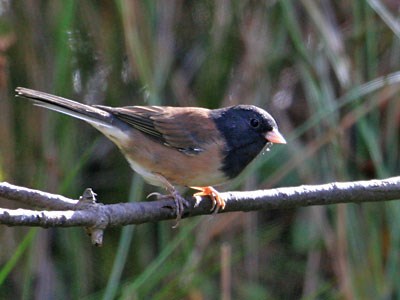 Natural History: The Dark-eyed Junco eats small arthropods, seeds, and fruit. It uses a mosiac of forests and open areas. This species nests usually on the ground near cover and breeds from April to August.
General Distribution: In the Presidio, the Dark-eyed Junco can be found in annual grasslands, coastal and dune scrub, in all forest areas, on lawns, and in ornamentals. It breeds within the Presidio.
Frequency: This species is common in the spring and summer and abundant during the fall and winter.
Identifying Characteristics: The Dark-eyed Junco has gray sides and back. Its tail is bordered with white.
Last updated: February 28, 2015