Coyote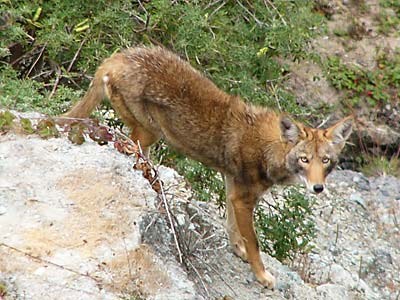 Natural History: It coyote frequents open scrub and herbaceous habitats, and may be seen in croplands. Also found
in young deciduous and conifer forest and woodland. This omnivorous species eats primarily small mammals such as mice, rats, ground squirrels, and gophers. It also eats some insects, reptiles, amphibians, fruits, and occasionally birds, their eggs and carrion. This dog hunts solitarily, in pairs, or in small packs in open habitats where it can chase down prey. The coyote adapts and adjusts rapidly to perturbations and changes of its environment and thus has found its way into urban areas.
General Distribution: The coyote is a common to abundant throughout the state and much of the continent. In the spring of 2003, at least one pair of coyotes was seen repeatedly in the Presidio.
Frequency: This species is uncommon in the Presidio.
Identifying Characteristics: The coyote is has reddish gray to brown fur. It is a medium-sized dog, much larger than a fox.

Last updated: February 28, 2015