Cobweb Thistle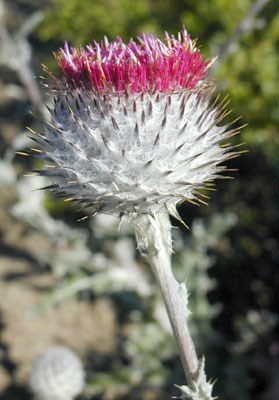 Origin of genus name: Cirsium is Greek for "thistle."
Presidio locations: Found in dune grassland and dune scrub.
Range in state: Throughout most of California.

Description: This native perennial species has solitary, pink-to-rose flowers on stout, leafy stems up to 2 feet in height with narrow, alternating, spiny leaves up to 12 inches long. A webbing of filmy, white threads winds below the flower heads and the underside of the leaves. Blooms March to May.

Native Californian Uses: The spring stems were skinned and eaten raw by the Tubatulabal and the Kawaiisu. A tea was made from the roots by the Ohlone and used to treat asthma.
Last updated: February 28, 2015