Coast Range Newt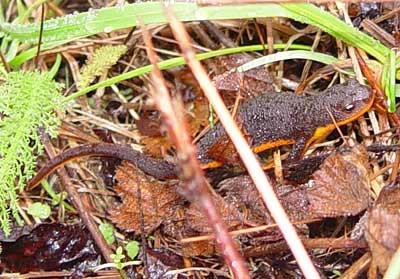 Natural History: In general, this amphibian tends to show little activity, preferring to take cover under rocks and logs. Its toxic skin facilitates its diurnal lifestyle. It deposits eggs on submerged vegetation and rocks.
General Distribution: This species is may occur within the Presidio near ponds, streams, annual grasslands, and all types of forests.
Frequency: This animal is rare within the Presidio.
Identifying Characteristics: Identifying characteristics include a light brown upside and a yellow-orange belly. Its skin is may appear warty.
Last updated: February 28, 2015