Coast Fiddleneck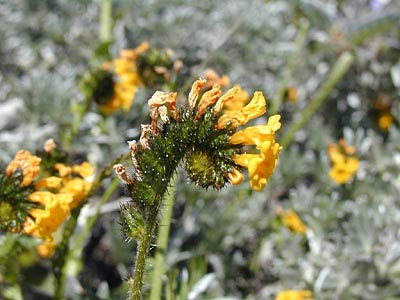 Origin Of Genus Name: Amsinckia is named after W. Amsinck, patron of Hamburg Botanic Garden.
Presidio Locations: Found on coastal dunes and scrub.
Range In State: California coast.
Description: . This native annual species has yellow-orange flowers with hairy stems that mostly lie flat on the ground and curve up at the tips. The name 'Fiddleneck' refers to the plants flowering stem, which looks like the neck of a fiddle when it uncoils. Blooms April to August.
Native Californian Uses: Young leaves were rolled into balls and eaten raw by the Coast Miwok. The seeds were used to make pinole, a ground meal.
Last updated: February 28, 2015