Coast Buckwheat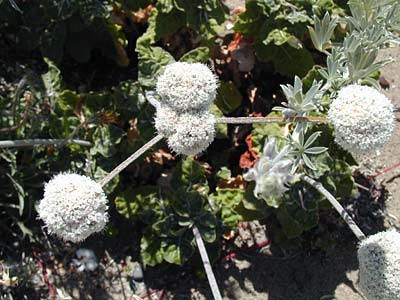 Origin Of Genus Name: Eriogonum is Greek for "woolly knees."
Presidio Locations: Found throughout the Presidio, especially on coastal bluffs and dunes.
Range In State: Northern to central California coast. The Presidio is the type locality for this species.
Description: This native, perennial species has white or pinkish flowers that densely cluster to form a ball shaped flower head. The paddle-shaped leaves are greenish gray above and white underneath, and have densely matted hairs underneath them. This is also a nectar source for the Green Hairstreak Butterfly and other summer butterflies. Blooms May to September.
Native Californian Uses: The Ohlone, Maidu and Round Valley tribes used a decoction of root, stalk and leaves for coughs. Yuki and Round Valley women made a tea to relieve gynecological problems.
Last updated: February 28, 2015