Chestnut-backed Chickadee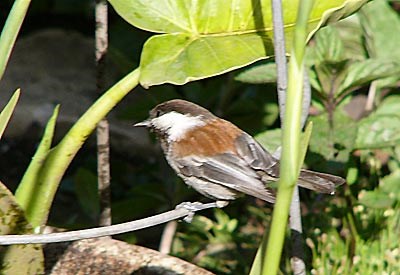 Natural History: This species feeds on seeds, fruits, insects, and spiders found high up in trees. It takes cover in forest areas. The chickadee and nests in old tree cavities by constructing nests of moss, fur, and feathers. Breeding season is from mid-March to July.
General Distribution: In the Presidio, this bird is found in all forest and ornamental areas. This species breeds on the Presidio grounds.
Frequency: The Chestnut-backed Chickadee is abundant in the Presidio year round.
Identifying Characteristics: This bird has a black head with white cheeks. It has a chestnut brown back and sides.
Last updated: February 28, 2015