Checkerbloom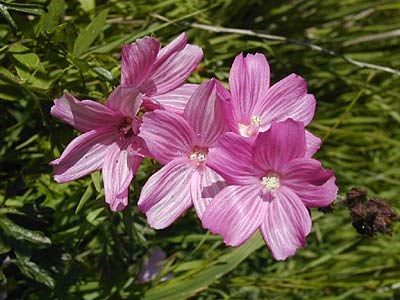 Origin Of Genus Name: Sidalcea is from two Greek names for mallow: 'Sida' and 'Alcea.'
Presidio Locations: Found in serpentine grasslands, coastal prairie, and bluffs.
Range In State: Throughout California. The Presidio is the type locality for this species.
Description: This native perennial species can grow up to 2 ft tall, sprawling with hairy stems. The leaf shape can vary considerably on a single plant; always toothed or lobed. The flowers are pale to bright pink with lacy, white veins and 5 squared off, slightly notched petals, 1 - 2 inches across; clustered along stem. Blooms March to May.
Native Californian Uses: The Coast Miwok used the seeds for pinole, a ground meal.
Last updated: February 28, 2015