Canada Goose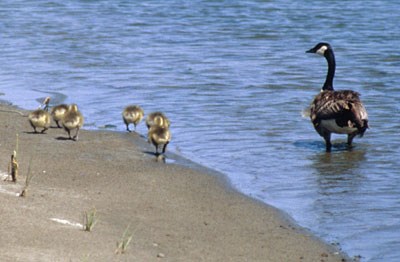 Natural History: The diet of the Canada Goose consists of shoots, roots, and seeds of grasses and sedges, bulbs and berries, as well as invertebrates such as crustaceans, insects and mollusks. It is found near water, where it dabbles for its food. This bird typically builds nests on the ground near water.
General Distribution: In the Presidio this species is particularly found near Crissy Marsh Mountain Lake. This species bred at Crissy Marsh in 2002.
Frequency: This species is common in all seasons except the summer.
Identifying Characteristics: This grayish-brown goose has a long, black neck and head with a prominent white chin strap.
Last updated: February 28, 2015