California Quail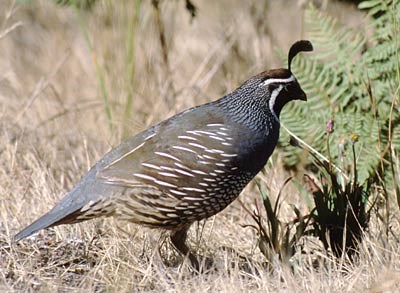 Natural History: The California Quail feeds on vegetation, seeds, and fruits. It takes cover in brushy vegetation and trees. This species requires a varied habitat with water and openings. This non-migratory bird builds nests in ground depressions from April to August. Because of habitat destruction from urbanization of the San Francisco Peninsula, quail are rare in San Francisco and the Presidio is an important refuge.
General Distribution: In the Presidio, this species is mostly found in coastal scrub areas, and in forests, lawns, and areas of ornamentals. It breeds in the Presidio.
Frequency: This species is common year round.
Identifying Characteristics: This species appears much like a chicken. It is gray with a short black plume curving forward from its head.

Last updated: February 28, 2015