California Poppy
(Eschscholzia californica)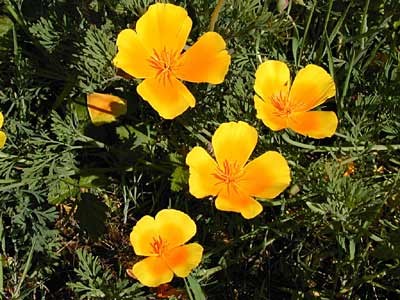 Origin Of Genus Name: Adelbert von Chamisso named this genus after his shipmate, J.F. Eschscholtz, a Russian naturalist who visited California and the Presidio in 1816.
Presidio Locations: Found on coastal bluffs, dune flats, grassy hills, rocky ridges. This is the type locality for this species, which means that it was scientifically described and named based on specimens collected at the Presidio.
Range In State: Throughout California.
Description: This annual or perennial native grows from heavy taproot and has lacy, blue-green leaves. This California State flower's shiny, golden-orange flowers are bowl shaped. Blooms February to November.
Native Californian Uses: The Ohlone used a decoction prepared from the flowers to rid the scalp of lice. When a child was restless or unable to sleep, one or two California Poppy flowers were placed beneath their bed to help relax them. Pomo mothers used a decoction of mashed seed pods to stop nursing.
Last updated: February 28, 2015