California Hedgenettle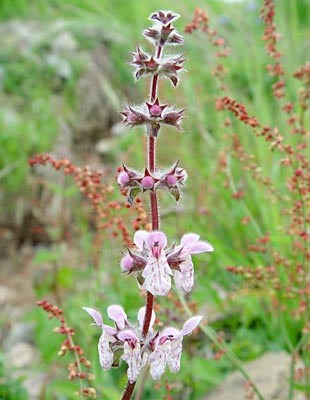 Origin Of Genus Name: Stachys is Greek for "ear of corn."
Presidio Locations: Inspriation Point
Range In State: Throughout California.

Description: This native annual species is not really a nettle at all, but a member of the Mint Family. Flowers are light purple to pink to white, with 5 petals in two lips arranged in whorls of flowers along top of stout stems up to 3 feet in height. Leaves are dark green, triangular, hairy and toothed and grow in pairs. Blooms March to July.

Native Californian Uses: The Ohlone used poultices of heated leaves for earaches and infected sores. They also used decoctions of roots used as a gargle for sore throats and internally for stomachaches.
Last updated: February 28, 2015