California Alligator Lizard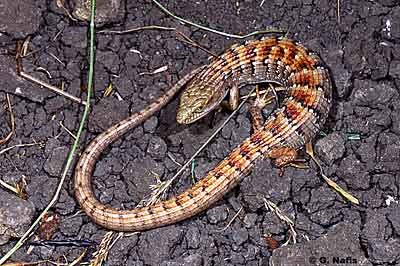 Natural History: This species has a low requirement for water and is primarily active during the day. It tends to be active at cooler temperatures than other lizards. Its eggs are laid in June, and hatchlings are present from August through September.
General Distribution: Within the Presidio, this reptile is typically found in annual and serpentine grasslands, coastal scrub areas, dune scrub areas, forests, and developed areas.
Frequency: This reptile, unlike its relative, the San Francisco Alligator Lizard is uncommon within the Presidio.
Identifying Characteristics: California Alligator Lizard is characterized by a brown, gray, or reddish color with dark stripes on its belly and dark crossbands on its back and tail. It has pale yellow eyes, a long tail, and red blotches on its back.
Last updated: February 28, 2015