Brown Creeper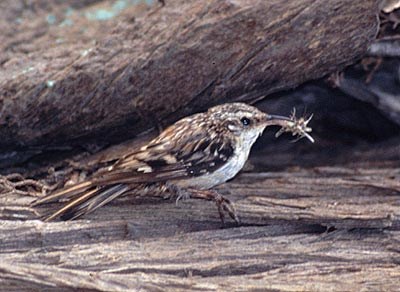 Natural History: The Brown Creeper eats insects and other invertebrates by probing into bark and picking them off leaves. It often feeds by spiraling up a tree trunk. Nests are often built behind loose bark, usually in old-growth trees or snags. It is monogamous and breeds from March to mid-August.
General Distribution: In the Presidio, this bird is found in Monterey Pine, Monterey Cypress, Redwood forests, and palm trees. It breeds within the Presidio grounds.
Frequency: This species is common in the Presidio year round.
Identifying Characteristics: The Brown Creeper is a small, slim bird with a brown color and light camouflage stripes. It is distinguished by its tendency to spiral up trees.
Last updated: February 28, 2015