Bluedicks
(Dichelostemma capitatum ssp. capitatum)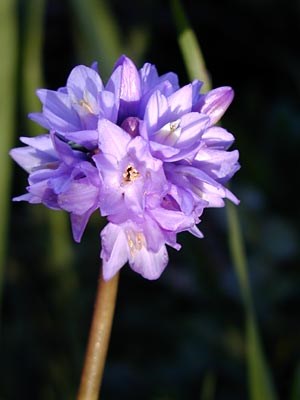 Origin Of Genus Name: Dichelostemma is a Greek reference to appendages on the stamens, the male part of the flower. Capitatum refers to flowers forming a cap at the top of the stalk.
Presidio Locations: Found in serpentine grassland, coastal prairie, and dune scrub.
Range In State: Throughout California
Description: This native, perennial species of the Lily Family has two or three grass-like leaves up to 16 inches long and a single flower stalk which can reach 2 feet. Often the two to fifteen tightly packed flowers that form the head are pale lavender to dark purple. Blooms March to May.
Native Californian Uses: The Miwok ate the bulbs, an important starch source, steaming them in an earth oven.
Last updated: February 28, 2015