Blue-eyed Grass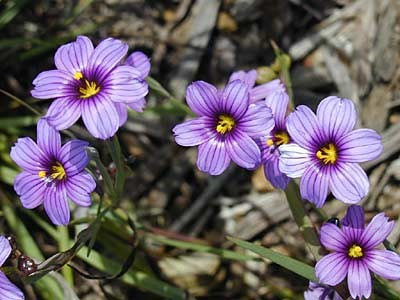 Origin Of Genus Name: Sisyrinchium is the name used by Theophrastus for Iris-like plants.
Presidio Locations: Found in serpentine grasslands.
Range In State: Throughout California.
Description: This native, perennial species of the Iris family has deep bluish to blue-violet flowers with yellow, or rarer white centers. What looks like six equal petals are really three sepals alternating with three petals that just happen to be alike in color and texture. The leaves are narrow and grass-like. Blooms March to July.

California Native Uses: The Coast Miwok used tea made from Blue-Eyed Grass to treat stomach-aches. The Ohlone used the tea to reduce fever.
Last updated: February 28, 2015