Bermuda Buttercup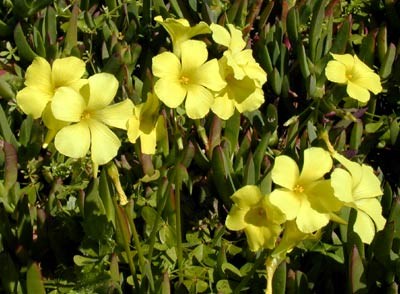 Origin Of Genus Name: Oxalis is Greek for "sour."
Presidio Locations: Found throughout the Presidio especially in disturbed areas.
Range In State: California coast.
Description: This exotic perennial species is from South Africa and has funnel-shaped, yellow flowers with 5 petals. The leaves are clover-like and have leaflets grouped in threes; each is heart-shaped and creased down the middle. The plant contains high levels of oxalic acid making it sour. Bermuda Buttercup has edible leaves, often used in salads. Blooms March to May.
Or check out:
Last updated: February 28, 2015