Arboreal Salamander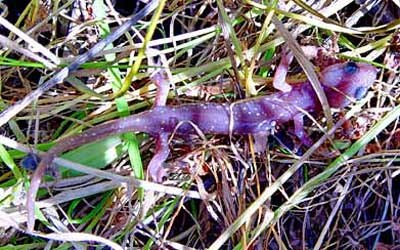 Natural History: This amphibian is found primarily in moist areas near permanent water. It is active nocturnally. As the environment dries during the summer months, it retreats to moist areas.
General Distribution: The arboreal salamander is found in annual grasslands, coastal scrub, and forested areas.
Frequency: This animal is uncommon within the Presidio.
Identifying Characteristics: This species appears as a plain brown with yellow spots and white below and a triangular head. Its toe tips are squarish and its tail is often coiled when at rest
Last updated: February 28, 2015