American Kestrel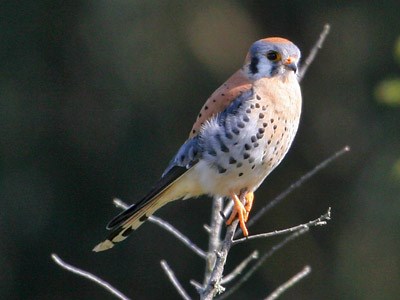 Natural History: The predatory nature of the American Kestrel is to pounce on its prey of small mammals, birds, insects, amphibians, and reptiles rather than pursuing them. It often hovers while beating its wings. It tends to forage in open areas. It nests in cavities in trees, snags, cliffs, and buildings near to its foraging areas. Breeding season runs from April to August. The kestrel is also know as the sparrow hawk.
General Distribution: In the Presidio, this bird is found in forests where it breeds.
Frequency: This species is common in the Presidio during the fall, winter, and spring months.
Identifying Characteristics: This bird has the appearance of a small swallow-like falcon with a reddish back/tail. It often appears with a black and white face pattern.

Presidio Birds main page
Last updated: February 28, 2015