American Goldfinch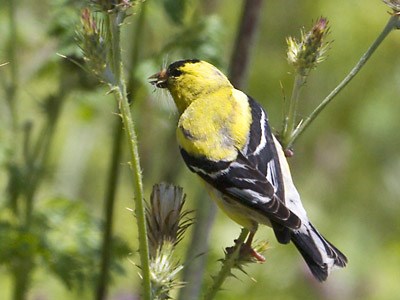 Natural History: The American Goldfinch eats seeds and insects. It takes cover in trees and shrubs and is commonly seen flocking, often assembling on telephone lines. This bird usually nests near water in riparian trees. It breeds from April to July.
General Distribution: In the Presidio, this species can be found in areas of coastal and dune scrub; oak, eucalyptus, and willow forests; lawns and around ornamentals.
Frequency: This species is common in the spring and summer, uncommon in the fall and winter. It nests in the Presidio.
Identifying Characteristics: The males of this bird are small in size with yellow and black wings, tail, and forehead. The male differs from the Lesser Goldfinch in having a yellow back. The females are a dull yellow-olive color with black wings and wingbars and are difficult to tell from the Lesser Goldfinch.
Last updated: February 28, 2015