World War I and the Buffalo Soldiers

During the First World War, the size of the United States army expanded to its greatest numbers since the Civil War.
Many African Americans felt the Buffalo Soldiers would form the nucleus of an all-Black division, and that Lieutenant Colonel Charles Young would command them in the ensuing onslaught. Racism within the army and the Woodrow Wilson administration blocked any hope of that happening.
In Colonel Young's case, illness also became an obstacle. While taking a required annual medical exam, Charles Young was diagnosed with high blood pressure and chronic kidney inflammation (Bright's Disease) and was forced to retire from active service.
Returning to Wilberforce University, Charles Young waged a spirited campaign for reinstatement to active duty. At the end of the 1918 school term, he made a 497-mile horseback ride from Wilberforce, Ohio, to Washington, D.C., to appeal his retirement and to show the War Department he was still fit for duty. He would not be reinstated for active duty until the last five days of the war.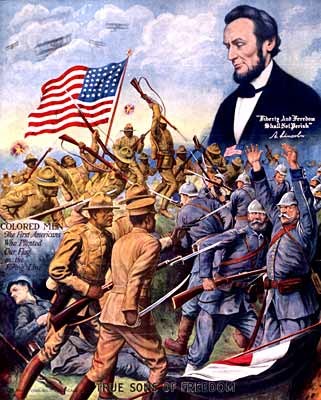 The veteran Buffalo Soldier regiments of the Regular Army were also denied the opportunity to go into battle on the Western Front. The 24th Infantry had been on the Mexican border since 1916 and remained there. The 10th Cavalry was also assigned to patrol along the border. The military justified this action by saying that the country needed a dependable force on the border with Mexico.
The 9th Cavalry spent the war years in the Philippines (39). The 25th Infantry was garrisoned in Hawaii.
In contrast, several African American National Guard regiments and battalions were called to active duty and sent to fight in the European war. Thousands of African Americans either enlisted or responded to the draft during the war.
An officers training camp for Blacks was established at Fort Des Moines, Iowa, in the June of 1917. Several hundred men attended, including veteran non-commissioned officers from the regular army and National Guard. They were commissioned as Reserve Captains and Lieutenants. One African American National Guard regiment, the 8th Illinois (later renumbered the 370th) was entirely Black including its commander, Colonel Franklin A. Dennison.
President Wilson, in his book History of American People, wrote that after the Civil War, "congressional leaders were determined to put the white south under the heal of the black south (and) white men were roused by the mere instinct of self-preservation."(40) Wilson strongly felt that Blacks should not hold high positions of authority in the army, particularly in combat. In a short time, all African American field grade officers in the regiment, including Colonel Dennison, were sent home and replaced by Caucasian officers. (41)
Most African American troops in the Expeditionary Forces were segregated and consolidated into two Divisions, the 92nd and the 93rd. The men of the 92nd Division were used primarily as support troops. The 93rd Division was placed under the direct command and control of the French army. These men distinguished themselves in battle, but casualties were high with dead or wounded men totaling almost 50% of the division. The men of the 93rd were recognized with 68 Croix de Guerre's and 24 Distinguished Service Crosses. (42)
Last updated: February 28, 2015