Concepcion Arguello & Nikolai Petrovich Rezanov: A Presidio Love Story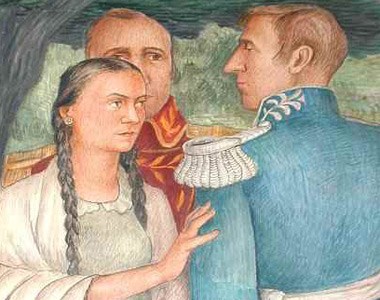 In the late eighteenth century, a young Spanish girl and a Russian explorer fell in love at the Presidio. Though challenged by different languages and cultures, the romance of Maria de la Concepcion Marcela Arguello and Nikolai Petrovich Rezanov spawned a legend that continues to capture the hearts of people today.
---
On February 19, 1791, Maria de la Concepcion was born to Spanish Presidio Comandante Don Jose Dario Arguello and his wife Maria Ygnacia Moraga. Raised near the modern-day Officers' Club, Concepcion was only a teenager when the Russian ship Juno arrived in the San Francisco Bay in April 1806. Nikolai Petrovich Rezanov—Chamberlain of Tsar Alexander I of Russia—had brought the Juno to San Francisco from the struggling fur-trading settlement at Sitka, Alaska, where the Russians were in desperate need of supplies. Rezanov's intention was to establish a barter system with the Spanish in order to secure provisions for Sitka. At the time of the Juno's arrival, Comandante Arguello was away and his son, Don Luis, was in temporary command. The language barrier was broken by Georg Heinrich von Langsdorff, the Juno's doctor, and the Presidio's Franciscan Father Uria, who were able to converse in Latin. Though communication remained rather shaky, Don Luis welcomed the Russian soldiers to the Presidio. Unfortunately for the Russians, the Spanish Comandante would not allow trade with Sitka. However, the journey was not a complete failure;Rezanov soon caught the eye of fifteen-year-old Concepcion.
Doctor von Langsdorff wrote of Concepcion's beauty in his journal: "She was distinguished for her vivacity and cheerfulness, her love-inspiring and brilliant eyes and exceedingly beautiful teeth, her expressive and pleasing features, shapeliness of figure, and for a thousand other charms besides an artless natural demeanor." Von Langsdorff went on to detail Rezanov's interest in Concepcion: "The bright sparkling eyes of Dona Concepcion had made upon him a deep impression, and pierced his inmost soul."
The infatuation was mutual, as Concepcion quickly grew enamored with Rezanov as well. The two spent the weeks they had together exploring the Presidio and planning their future lives in Russia. Before his departure, Rezanov asked for Concepcion's hand in marriage. Though the proposal initially shocked Concepcion's parents—who were concerned with the young lovers' religious differences, as well as the distance between California and Russia—the Arguellos eventually warmed up to the idea. It was agreed that Rezanov would return to St. Petersburg to gain consent for a mixed Russian Orthodox-Roman Catholic wedding.
On May 21, 1806, the Juno departed San Francisco for Sitka. Rosanov soon attempted to ride across Siberia to reach St. Petersburg. On the way he caught pneumonia three times;each time he failed to heal completely before beginning his journey again. During his third relapse on March 1, 1807, Rezanov fell from his horse and died near Krasnoyarsk. Concepcion, however, waited patiently for her true love to return. She struggled with thoughts of tragedy or disloyalty for five years before learning from an officer of Rezanov's, "He is dead…His last words were of you." The young officer then returned the locket Concepcion had given to Rezanov prior to his journey.
After the death of her beloved, Concepcion turned to the care of others for consolation. She looked after her parents and became involved in charity work throughout California and even as far as Guadalajara, Mexico. Though her family encouraged Concepcion to marry—and it is rumored she had many suitors—she chose instead to dedicate herself to God. Concepcion joined the Dominican sisterhood in Benicia, California, with which she remained until her death in 1857.
Though doctor von Langsdorff's journal documented the infatuation between Concepcion and Rezanov, it also acknowledged that ulterior motives may have been responsible for the union. Indeed, the romance occurred at a time when Russia and Spain were competing for control of the northern Pacific coast. As von Langsdorff wrote, the marriage would ensure "A close bond would be formed for future business intercourse between the Russian American Company and the provincia of Nueva California. [Rezanov] therefore decided to sacrifice himself, by wedding Dona Concepcion, to the welfare of his country and to bind in friendly alliance Spain and Russia."
Though von Langsdorff was not the only person to interpret the romance of Concepcion and Rezanov with a bit of cynicism, their story has nevertheless captured the imaginations of authors, painters, and historians through the centuries. It also inspired a famous Russian rock opera, Juno and Avos, as well as countless visitors to the Presidio today.
Last updated: December 3, 2015