Frederick Funston (page 2/2)
Funston returned to the Presidio as commander of the Department of California, under division command of Major General Adolphus Washington Greely. On April 18, 1906, the day of the infamous San Francisco earthquake, Greely was attending his daughter's wedding in Chicago and Funston was in command of the Presidio. The severity of the earthquake and ensuing fire destroyed the center of the city and left over 300,000 people homeless. Funston immediately ordered the mobilization of troops, took command of local relief efforts, and directed the dynamiting of buildings to create firebreaks. Though some criticized Funston for overstepping his authority, he was instrumental in the establishment of communications, sanitation, medical facilities, housing, and general order in a ravaged city.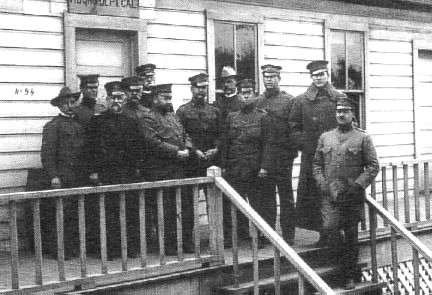 Following the earthquake, Funston's military career continued to progress. From 1908 until 1910, he was commandant of the Army Service School and then commander of the Department of Luzon in the Philippines. In 1914, Funston led 5,000 troops into Mexico during the border conflict. There, Funston was appointed military governor of Vera Cruz and promoted to major general. Funston also supervised Brigadier General John J. Pershing's 1916 "Punitive Expedition" of Mexican outlaw Francisco "Pancho" Villa.
Frederick Funston was in line to command the American Expeditionary Force when it went to France to fight in the First World War, but on February 19, 1917, he died of a heart attack in a San Antonio hotel near his headquarters at Fort Sam Houston, Texas. He was fifty-one years old. Funston lay in state at the Alamo and under the San Francisco City Hall rotunda, the first person to have such an honor. Presidio cannons fired thirteen times in a final salute, and city activity stopped for two minutes as a show of respect. General Funston was buried in full dress uniform at the San Francisco National Cemetery at the Presidio.
Funston's is buried in the Officers' Section, Section 68, Grave 3.
---
Resources
"At 5 foot 4 - the Tallest Man in San Francisco." The Fort Point Salvo, May 1976.
Bain, David Haward. Sitting in Darkness: Americans in the Philippines. Boston: Houghton Mifflin Company, 1984.
Crouch, Thomas W. A Yankee Guerrillero: Frederick Funston and The Cuban Insurrection, 1896-1897. Memphis State University Press, 1975.
Thomas, Gordon and Max Morgan Witts. The San Francisco Earthquake. New York: Stein and Day, 1971.
Thompson, Erwin N. Defender of the Gate: The Presidio of San Francisco, A History from 1846 to 1995. National Park Service, 1995.
Twain, Mark. "In Defense of General Funston" May 1901, North American Review. http://www.boondocksnet.com/twain/defunst.html(25 March 2001).
Young, Lt. Dave. "Mg. Frederick Funston," Museum of the Kansas National Guard, http://skyways.lib.ks.us/museum/kng/mohfunston.html. 20 March 2001.
"Museum of the City of San Francisco." http://www.sfmusuem.org/1906/funston.html. 25 March 2001.
Selected Photos Courtesy of Kansas Historical Society. Copy And Reuse Restrictions Apply.
Last updated: February 28, 2015