Fort Scott: Battery Slaughter (1900-1917)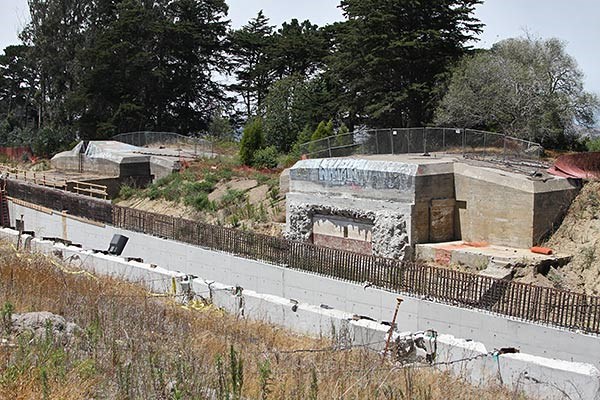 General Information
Built to protect the inner harbor, this Endicott-era battery was completed in 1900 and armed with three 8-inch guns mounted on disappearing carriages. These guns had a range of about seven miles. When the submarine mines were moved outside the Golden Gate, Battery Slaughter was abandoned and the Fort Scott boundary was redrawn to place the battery within the Presidio. In 1917, the three guns were dismounted and sent to the Watervlient Arsenal in New York State for use in World War I. The magazines were used for storage.
Origin of Name
Battery Slaughter was named in honor of Lieutenant William A. Slaughter, Fourth Infantry, a West Point graduate who was killed by White River Indians at Brannons Prairie, Washington Territory, in 1855.
Access and Current Condition
Battery Slaughter is located near the San Francisco National Cemetery and the cavalry stables. However, the battery was largely buried during construction of the Gold Gate Bridge approach, leaving only small parts of the parapet and observation station visible. Now, part of the eastern side has been removed to make way for construction of a tunnel on the Presidio Parkway. Access to the battery is currently not permitted during the road construction project.
Last updated: February 28, 2015