Fort Scott: Battery Lancaster (1898-1918)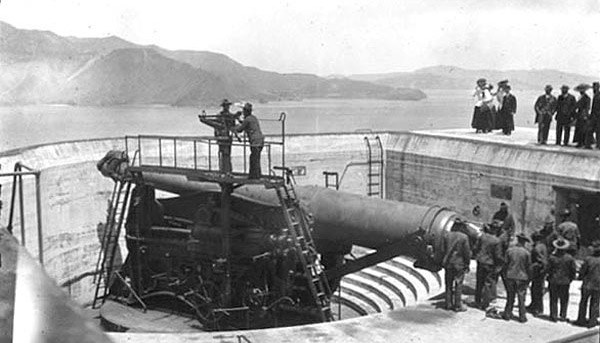 General Information
Built to provide seaward defenses against enemy ships, this Endicott-era battery was armed with three 12-inch guns mounted on disappearing carriages. These guns had a range of about six miles and could fire at the rate of one round per minute. Battery Lancaster was unique in that it was the only major Endicott-era battery on the south shore of the Golden Gate that aimed directly at the narrowest part of the strait.
Two of the three 12-inch guns were dismounted and shipped to the Watervliet Arsenal for use elsewhere during World War I. The third gun was transferred to Battery Chester at Fort Miley.
Origin of Name
Battery Lancaster was named in honor of Lieutenant Colonel James Lancaster of the Third Artillery, a West Point graduate and Civil War veteran who died in 1900.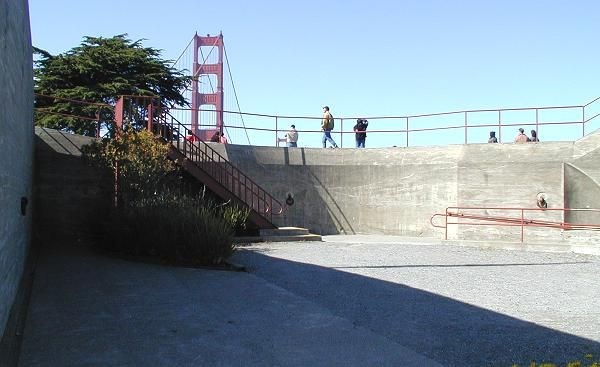 Access and Current Condition
Battery Lancaster is adjacent to the Golden Gate Bridge toll plaza. Emplacement #1 is partially incorporated into the pedestrian walkway to the bridge and the Visitor Gift Center. Emplacement #3 was partially demolished to accommodate the Golden Gate Bridge's roadbed; however, the left side of the battery remains visible. The interior magazines are used for storage and access is prohibited.
The battery can be reached via Lincoln Boulevard and parking is available in the toll plaza parking lot. The remaining emplacement is well maintained but has been modified to accommodate foot traffic. The battery's gun platform has been filled in with dirt and gravel.
Last updated: February 28, 2015