Fort Scott: Battery Howe-Wagner (1895-1920)

General Information
Initially named Battery Howe, this Endicott-era battery was built to provide both seaward and harbor defenses against enemy warships. Completed in 1895, the battery consisted of four pits, each armed with four 12-inch mortars. The guns had a range of approximately 8 miles.
In 1902 the battery was divided--the two eastern pits retained the name Battery Howe and the two western pits were renamed Battery Arthur Wagner. Designed in the shaped of a cross, this type of battery is called an "Abbott Cross" after General Henry Abbott, Corps of Engineers, who advocated the use of mortars for seacoast defense. By contrast, the four other mortar batteries in the Harbor Defenses of San Francisco are linear in design. This battery had a 360-degree field of fire and could target the beaches in its range in addition to water. The mortars were dismounted in 1920.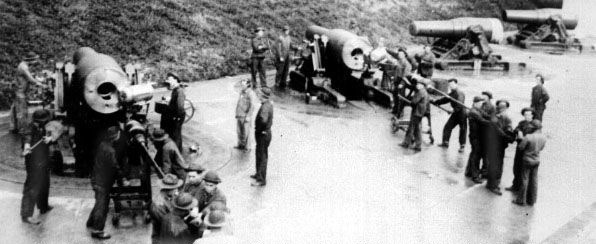 Origin of Name
Battery Howe was named in honor of Colonel Howe, Fourth Artillery, a veteran of the Mexican-American War and the Civil War who also served in San Francisco. He died in 1897.
Battery Wagner was named in honor of Colonel Wagner, military secretary who served with distinction in the Spanish-American War. For several years he was a professor at the Infantry and Cavalry School at Fort Leavenworth, Kansas, and wrote several military textbooks.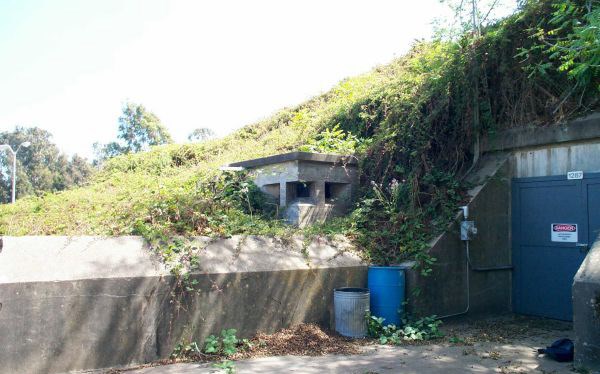 Access and Current Condition
Battery Howe-Wagner is located northeast of the intersection of Ruckman and Ralston Avenues, adjacent to the Fort Winfield Scott barracks. The batteries are buried under a large earthen hill and heavy brush covers most of the area. A portion of gun pit #1 is visible but currently used for storage. Access to the battery and magazines is not permitted.
Last updated: February 28, 2015