East Cantonment

The East Cantonment* was an area in the southeastern Presidio where troops were quartered temporarily as they rotated through the Presidio on their way to and from duty in the Philippine Islands during the 1898 Spanish American War, the following Philippine War, and in the early 1900s after these conflicts. All of the Buffalo Soldier regiments passed through this area in transit during those years. Initially troops camped here in tents, and then barracks were constructed in 1903 to house primarily those returning from the Philippines. Only three of these barracks remain today; one is shown above. Buffalo Soldiers may have stayed in one of the remaining buildings, but there are no records of who stayed where.
There is also an outdoor exhibit panel interpreting the Buffalo Soldiers at the Presidio located here on Lombard Street near the Lombard Gate.
* Pronounced: "kan-TONment". Cantonment is an old British Army term, first used by troops in India.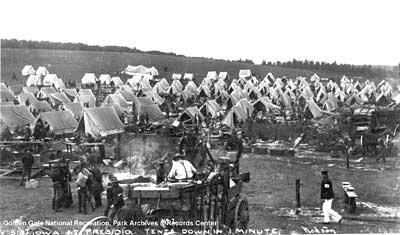 Last updated: February 28, 2015