Charles Young - Buffalo Soldier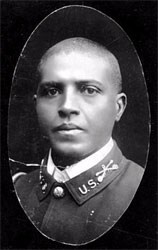 A leader among the legendary "Buffalo Soldiers", Charles Young (1864-1922) served in the segregated U-S Army of the 19th and early 20th centuries.
Young was one of few black military officers. These African Americans served in an era when racism was rampant and many ... if not most ... white soldiers resented taking orders from black officers or non-commissioned officers.
Nevertheless, Young carried out a wide variety of assignments throughout the United States, Philippines, Haiti, Liberia, and Mexico over the course of his thirty-seven year military career.
In 1903, Captain Young served as a 9th Cavalry Company commander at the Presidio of San Francisco. His duties that year included leading an escort of troops for President Theodore Roosevelt and serving as Acting Superintendent of Sequoia National Park.
---
Charles Young
was born to former slaves in 1864. He attended the United States Military Academy at West Point and, in 1889, became only the third African American cadet to graduate and be commissioned as an army officer.
There were four black regiments in the United States army at that time: the 24th Infantry, 25th Infantry, 9th Cavalry, and 10th Cavalry. During the nineteenth century, these so-called "Buffalo Soldiers" served mostly in the Plains region of the Western Frontier.
Second Lieutenant Young served first with the 25th Infantry at Fort Custer, Montana. Later, the army assigned him to the 9th Cavalry at Fort Robinson, Nebraska, and Fort Duchesne, Utah.
After five years out west, Lieutenant Young was appointed Professor of Military Science and Tactics at Wilberforce University, an African American college in Ohio. Wilberforce President Samuel T. Mitchell described Young as "enthusiastic, energetic," and "eminently qualified for the position he occupies, teaching not only Military Science courses, but also French and mathematics."
During and after the Philippine War, Charles Young served as a Captain and company commander with the 9th Cavalry, and later as a Major in the 10th Cavalry during the Punitive Expedition into Mexico. At the end of his career, Young had risen to the rank of full Colonel, the highest rank held by an African American up to that time.
A talented musician, Charles Young also directed the college band and played and composed music for piano, violin, and guitar. Young's closest acquaintance on the faculty was Professor W.E.B. DuBois; the two became lifelong friends.
Last updated: February 28, 2015